Caroline Goode Jackson, Ph.D.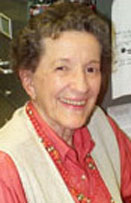 Associate Professor
Office Phone: 804-828-9555
E-mail: cgjackso@vcu.edu
EDUCATION
B.S., Biology, Westhampton College of the University of Richmond, (1946)
Ph.D., Anatomy, Virginia Commonwealth University, (1973)
RESEARCH AND SCHOLARLY INTERESTS
My consuming interest throughout my professional career has been embryology and I have always been strongly committed to teaching. As emeritus faculty, I have more time to spend in pursuit of both of these interests. As a continuing effort to retain the effectiveness of teaching while reducing departmental faculty time, I am in the process of converting my previously prepared study packages, that utilize slide sets and videocassette/audio-cassette tapes, into computer-based units. My teaching is primarily in the Microscopic Anatomy course for Dental students and the Embryology course for Medical students. I also teach to Postgraduate, Graduate, Pharmacy and Dental Hygiene students.